Next Steps | DDMP
Distributed Design Market Platform – DDMP is a project funded by Creative Europe Program to implement the global network of Fab Lab promoting and improving the connection between makers and designers with the European market.
In the latter, alongside the growth of the Maker Movement and Fab Labs, have been created platforms such as Fablabs.io, developed by Fab City Research Lab of the Institute for Advanced Architecture of Catalonia. This platform represents a place where Fab Labs are mapped, where knowledge sharing takes place, where projects are developed and where the community of makers discusses these topics. Starting from this initiative, the Creative Europe program is an opportunity to consolidate this network, focusing on the development of a European Distributed Design Market Platform for makers and designers.
YEAR 2| NEXT STEPS
NEXT STEPS is an experimental initiative that stimulates designers, makers and patients (as user innovators) to co-design and prototype a collection of open source walking aids that can be distributed through digital platforms and materialized in Fab Labs.
Starting from DDMP perspective, NEXT STEPS aims to demonstrate how designers, makers and patients – supported by patient associations, caregivers and healthcare specialists – can pragmatically co-design, materialize and distribute new walking aids with real market potential.
NEXT STEPS is an initiative developed thanks to the collaboration with AIG – Associazione Italiana Glicogenosi, a patient association that represents people affected by Glycogenosis, a rare and degenerative metabolic disease. AIG stimulates the involvement of patients in the co-design and prototyping of walking aids.
Thanks to NEXT STEPS, the patients will experiment a real patient innovation process.
NEXT STEPS: HOW IT WORKS
NEXT STEPS is articulated in three steps:
"Challenge"phase (March to May 2019). The starting point is an open call to action that stimulates the engagement of a group of patients that will be involved in the co-design of walking aids together with a team of designers and makers del Politecnico di Milano. During the Challenge phase, the product ideas will be presented and shared with AIG Association, within one of more events. Patient innovators such as Antonella Ferrari or caregiver innovators such as Fabio Gorrasi will also be able to participate in this phase and the next ones.
"Makers in Residence" phase (May to September 2019) where patients interact with designers and makers supporting them in the development and prototyping the open source walking aids, having also the technical and scientific support provided by Polifactory, and medical and scientific support provided by Sanofi Genzyme.
"Promotion of the ideas" (September – October 2019) where the projects will be promoted on Distributed Design Market Platform (distributeddesign.eu) and presented during one or more events focused on design, making and/or healthcare.
NEXT STEPS PROJECTS:
The results of the first survey with the patients from AIG association, the suggestions received by the patient-innovators during the co-design workshop, and the feedbacks obtained interacting with patients and their families during the AIG meeting (see Annex A) evidences aspects that influence the design phase:
the aesthetical dimension of the walking aids is as important as working on functional aspects;
walking aids tents to become physical extensions of the people. Personalization is an important issue because characterizes the identity of the walking aids in
order to be "tuned" with that of their users;
NEXT STEPS solutions must be adaptable to the walking aids already available on the market;
the digital manufacturing processes and the digital technologies embedded in the walking aids have to be adaptable for DIY, makers and Fab Labs, craftsmanship but also industrial sector.
TWISTR, the parametric stick:
Twistr is a parametric stick made by Polifactory and design in collaboration with Angelo De Iesi, Andrea Ascani, Ewoud Westerduin, Aurélie Marie Glaser. This project has developed a design and digital fabrication method to materialize personal parametric sticks – with kinect and grasshopper – having a 3D printed structure. The stick is printed with the carbonium material made by Treedfilaments.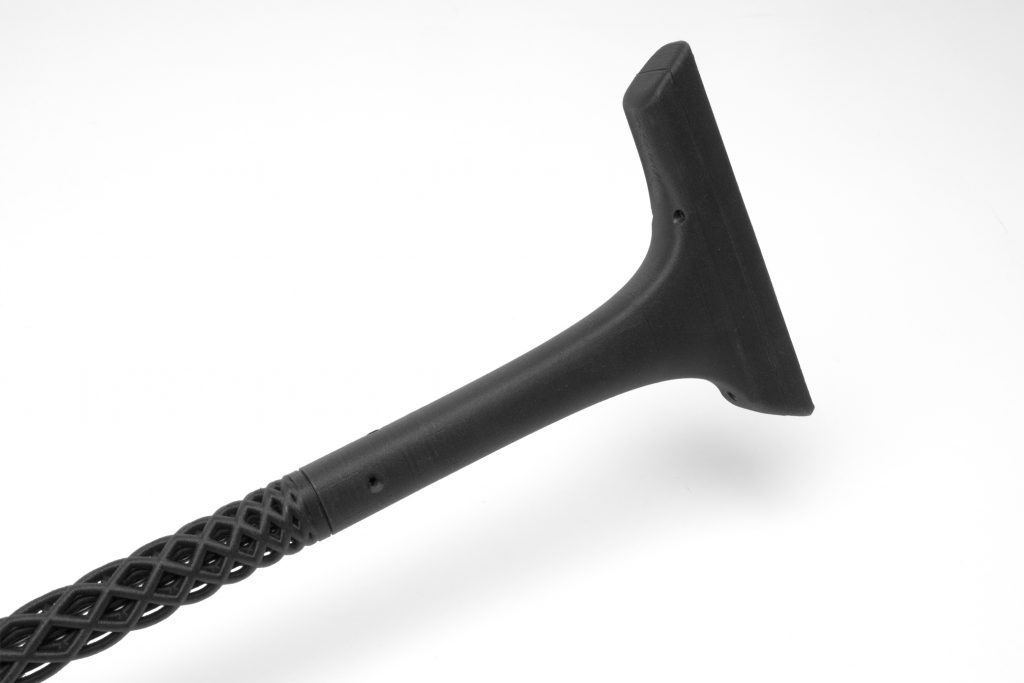 DOWNLOAD:
Fab Instructions
Twistr Digital Files
TAYLOR, the generative stick:
Taylor is a generative stick made by Polifactory and design in collaboration with Alessandro Ceriani and Marco Ceruti.
Taylor is a project of a method to create generative sticks, which change according to the weight, height and gender of the user.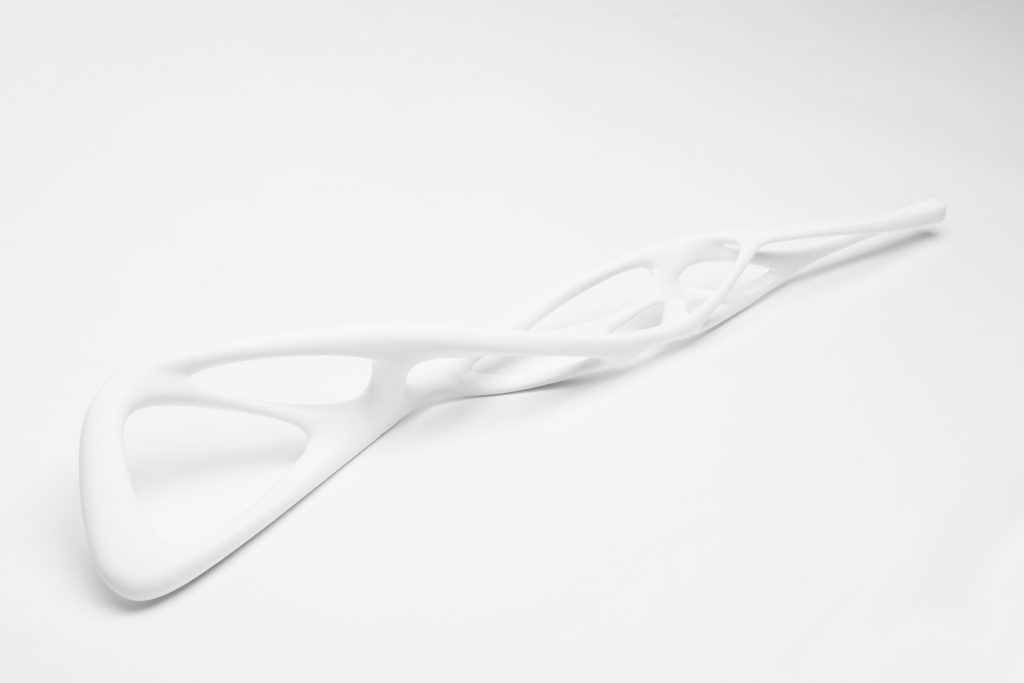 DOWNLOAD:
Fab Instructions
Taylor Digital Files
WANDER3D, the IoT rollator:
Wander3d is an IoT rollator. Thanks to this hacking it is possible to transform a traditional walker into a motorized and sensorized object. The user can activate or not the motors according to the needs. Wander3d is an hacking made by Polifactory and design in collaboration with Leonardo Lucchetti and Silvia Meregalli.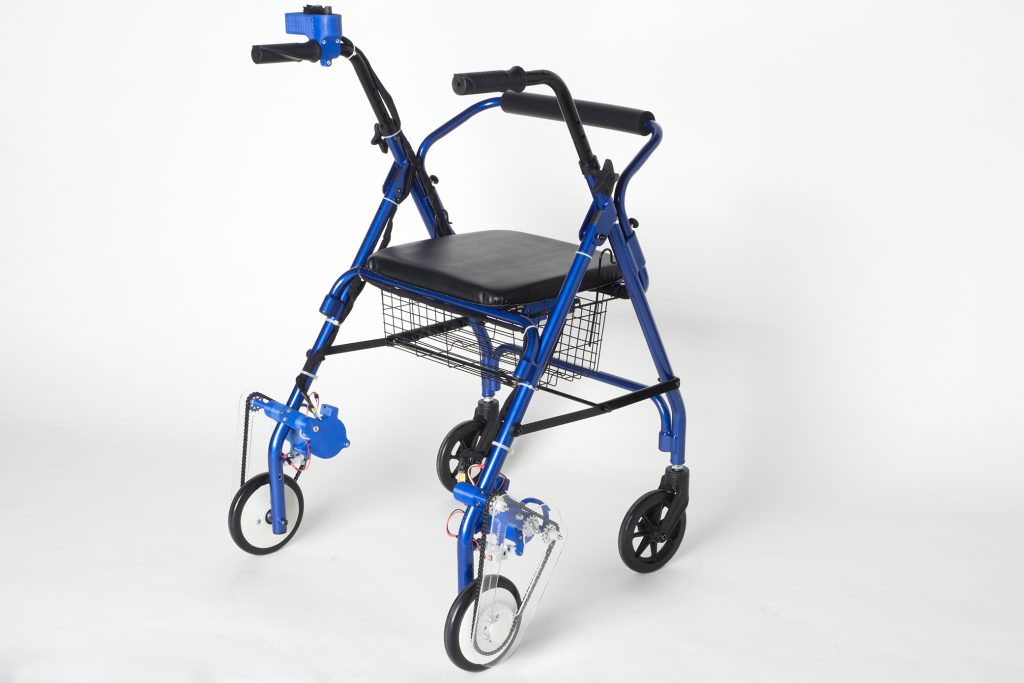 CLIP CLAP, the customization of crutches
Clip Clap is a project that allow the personalization of your crutch. This project concerns the co-design of removable clips for all kind of crutches that can be easily personalized and digitally fabricated. Clip Clap is a family of clips made by Polifactory and designed in collaboration with Lorenzo Cereda, Nicola Colombo, Giovanni Cortellessa and Andrea Stefanelli.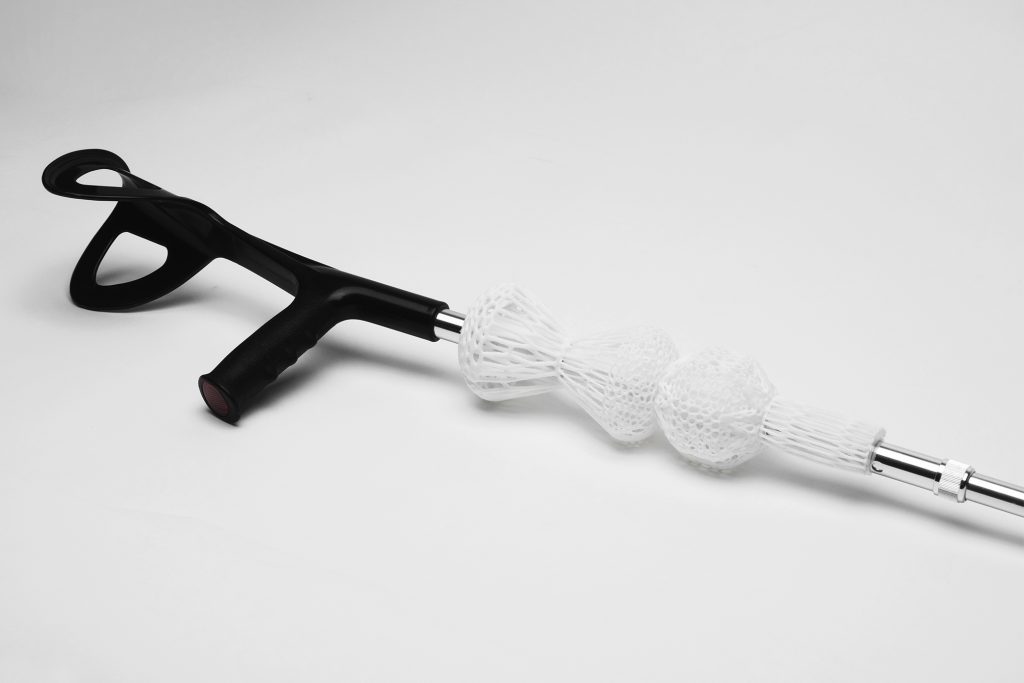 DOWNLOAD:
Fab Instructions
Clip Clap digital files
INTELLECTUAL PROPERTY
The projects developed will have to be available in open source mode according to the Creative Common License (cc-by and cc-by-sa) and promoted d on the Distributed Design Market Platform with the related documentation.
CAREGIVERS AND INNOVATORS INVOLVEMENT
The NEXT STEPS project will also involve patient and caregiver innovators – user innovators who already have designed and produced aids – and healthcare specialists.
Fabio Gorrasi, a caregiver who co-designed and prototype a tutor with and for his daughter affected by SMA (Spinal Muscular Atrophy).
Antonella Ferrari, actress, presenter and patient innovators, is affected by multiple sclerosis. She sclerosis and actively designed a collection of crutches with customized colours and textures. The daily use (and on the film set) of crutches with colours and textures she designed made her a testimonial of the Multiple Sclerosis Association. In 2013 she was awarded in 2013 by the title of "Knight of the Italian Republic" for her courage in dealing with the disease. His experience is a stimulus for the patients involved in the project.
Sanofi Genzyme, is the speciality care unit of Sanofi and is focused on rare diseases. Sanofi Genzyme has activated a corporate social responsibility activity centered on the relationship between patient innovation and making. Since 2016 Sanofi Genzyme organizes the MakeToCare contest (www.maketocare.it), a landmark initiative at European Maker Faire Rome entirely focused on promoting and supporting independent innovators and makers in the development of new healthcare solutions. Within NEXT STEPS, Sanofi Genzyme will support Polifactory and AIG to develop the walking aids providing medical-scientific support thanks to its own specialists. Moreover, Sanofi Genzyme will promote NEXT STEPS within events for communities of bottom-up innovators such as MakerFaire and other events that involve patient associations.
Periodo
Coordinamento
Iaac, The Institute for Advanced Architecture of Catalonia
Collaborazione
AIG - Associazione Italiana Glicogenesi
Sanofi Genzyme
Parole Chiave
City Making
Distributed Production
Hands-on Experimentation
Research