Open Food Factory – Distributed Design Platform
An experimental initiative to design innovative open source solutions for plant-based food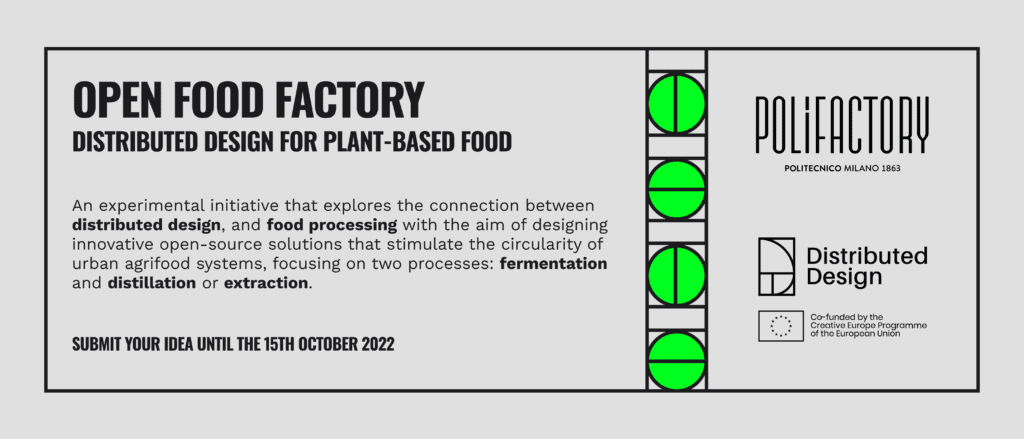 OPEN FOOD FACTORY is an experimental initiative exploring the relationship between distributed design and plant-based food to design open-source and circular solutions dedicated to fermentation and distillation or extraction processes.
It is an action developed by Polifactory within the Distributed Design Platform, a project funded by the Creative Europe Programme to implement the global Fab Lab network, promoting and improving the connection of young designers and makers with the European market.
OPEN FOOD FACTORY develops in three phases:
An Open call for ideas (deadline 15 October 2022) invites young designers interested in circular agrifood systems to submit ideas for open-source solutions for plant-based fermentation and non-alcoholic distillation.

Two ideas – one dedicated to fermentation, the other to distillation – will be selected by an international jury of experts in design, making, and food systems. The selected teams will develop their projects by February 2023, ealizati the prototypes with the technical-scientific support of Polifactory.

The projects will be promoted on the Distributed Design platform and presented at events and initiatives dedicated to design and making.
OPEN FOOD FACTORY supports the realization of innovative-demonstrative projects concerning products, analogue or digital tools, IoT devices designed to improve the control of fermentation and distillation processes, to make these processes more accessible and inclusive, to experiment new fermented and distilled foods or new fermentation and distillation techniques.
It is essential that the ideas proposed think pragmatically about the use of digital technologies available in Fab Labs: microcontrollers, microprocessors, and sensors applied to or incorporated in products, digital fabrication technologies that could also be combined or integrated with industrial or craft products, or components. 
Knowing the principles of plant-based power and assessing the opportunities and constraints of digital technologies is necessary to design circular products with aesthetic, technical, and performance qualities used and appreciated by users.
Download OPEN CALL FOR IDEAS – OPEN FOOD FACTORY
Periodo
Coordinamento
Polifactory – Politecnico di Milano (local coordinator), Institute of Advanced Architecture Catalunia (general coordinator)
Parole Chiave
Product-Service System Design
Food System
Open Innovation